We are crazy about bike gloves!
Have you ever wondered what does it take to make a great bike gloves? We have spent a few busy months designing, testing, trying, washing, cutting and doing other crazy things with gloves. Everything to find out what works and what doesn't for a professional bike rider. We have incorporated the best available fabrics and solutions into our glove design. Would you like to find out more about our freestyle gloves? Read on!
4-way stretch
Technology: We use high quality fabric that has added elastane to create the right amount of stretch in each direction to ensures your comfort.
Benefits for you:
Perfect fit & freedom: 4-way stretch fabrics can extend in both cross-wise and long-wise direction. This way our gloves gives you full freedom of movement and perfect fit at the same time.
Light & breathable: with its light weight and breathable structure - our fabrics are designed to make you feel comfortable when you are riding.
Microfiber
Technology: We use a non-woven material coating with a layer of high performance polyurethane resins. On abrasion tests it scores up to 8000 RPM (yes, that's a lot).
Benefits for you:
Second skin feeling: it is an ultra light, breathable material. While it replicates features of real leather such as the hand-feeling, breath-ability and moisture absorption; it is additionally more durable than natural material of the same thickness.
Endless grip: while microfiber we use has real leather feeling it also has resistance for abrasions (ensuring your gloves will not fall apart easily) and anti-bacteria and anti-odor characteristics.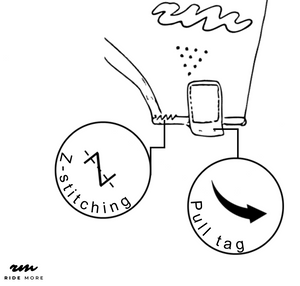 Z- Stitching
Technology: Thread that we use for finishing of the gloves is based on the left-twist yarn, enhanced further by another left twist on the sawing machine. Fun fact - same stitching technique is also used in plastic surgeries to improve the functional and cosmetic appearance of scars.
Benefits for you:
Durability: we have selected the stitches that will keep the structure of the glove together, allow maximum stretch and provide long term resistance for every day use.
Comfy slip-on: thanks to Z-stitching we could give-up on velcro, and fully rely on the 'slip-on' structure. No more loose fasteners, nor dangling parts around your wrists while you ride.
Perfect gift for bike, BMX and scooter riders
---